Workforce Resources in Baltimore An Employer's Directory to Support Local Hiring and Workforce Development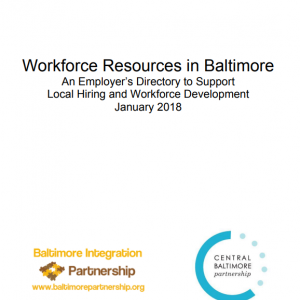 A collaborative project of the BIP and Central Baltimore Partnership, this new directory of Baltimore nonprofit and public workforce development organizations is now available to help employers and community stakeholders find workforce partners to meet hiring needs. It summarizes the work of more than 45 organizations that support Baltimore City workers by offering skills training, eliminating barriers to employment, and facilitating job placement.
These organizations range in size and focus. Some provide general job readiness coaching while others provide training, certifications, and placement in specific fields including health care, biotechnology, manufacturing, auto repair, construction, information technology and many others. Nonprofit and public workforce development organizations are ideal partners for employers and can facilitate local hiring, reduce long-term unemployment, and help mitigate the city's systemic socio-economic disparities.
City residents have immeasurable talents and aspirations that, when matched with effective support, can build careers and create paths to upward mobility. This directory can help employers tap the remarkable potential of city workers.