Baltimore Integration Partnership Update - May 2018
ICCC Launches in Baltimore; Development Program for Businesses Now Open for Applications
The Inner City Capital Connections (ICCC) program is seeking Baltimore business participants for this national program that positions inner-city businesses for long term success. The ICCC's 40 hour curriculum emphasizes capital access to help small 
businesses in economically-distressed areas build capacity for sustainable growth in revenue, profitability and employment. Businesses can apply directly or be nominated for the program by third parties. Support for the ICCC is made possible through Kaiser Permanente and the Baltimore City Mayor's Office.More Information.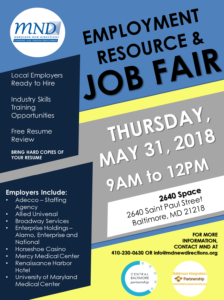 Maryland New Directions Hosting Employment Resource and Job Fair
A range of employers including anchor institutions as well as workforce development organizations will be on hand to support job seekers at 2640 St. Paul Street on Thursday, May 31 from 9 am to 12 pm. Maryland New Directions is coordinating the resource and job fair with support from Central Baltimore Partnership and the BIP.  Individuals are encouraged to bring hard copies of their resume. The event will also include free resume review as well as information about industry skill job training opportunities. For more information.
NEW! Directory of Resources and Intermediaries to Help Find Minority-Owned, Women-Owned, and Local Business Enterprises
Intermediaries can play a critical role in connecting small businesses to the buying power of large businesses and anchor institutions. Often these organizations can identify firms that can meet buying needs while also offering capacity building, technical assistance and connectivity to additional resources that are needed to help the small businesses succeed. This working document contains brief summaries of 20 organizations, websites, and business directories that BIP partners, stakeholders, and staff have used to help identify local, minority, and women-owned businesses. Organizations include government agencies, nonprofits, and for-profit enterprises with Baltimore City or State of Maryland focused operations. Download the Directory
Building Community Partnerships to Strengthen Local Hiring
This blog post captures the work and leadership of Towson University and their participation in Humanim's Administrative Assistant Training Program.  It reflects on their challenges and approaches to local hiring and underscores the importance of partnerships and collaboration in fostering successful economic inclusion outcomes. Read the Blog Post
Why Diversity and Inclusion Matter to Maryland's Workforce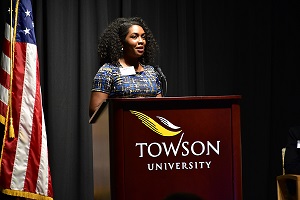 The Baltimore Integration Partnership partnered with Towson University and the Governor's Workforce Development Board to host our 3rd Annual Maryland Workforce Outlook Forum on May 16th.  This year's forum was focused on diversity and inclusion and attended by representatives of area communities, businesses, nonprofits, anchor institutions, and government agencies.  Full video coverage of the event is now available of the featured speakers including Clair Minson of Associated Black Charities, Leah Cox of Towson University, Kylie Patterson of Johns Hopkins University, Willy Moore of Southway Builders, Tammira Lucas of Moms as Entrepreneurs, Calvin Butler of Baltimore Gas and Electric, and Heather Lageman of the Council of Educational Administrative and Supervisory Organizations of Maryland. News Story | Event Coverage with Video
HopkinsLocal 2nd Year Progress Report
With the creation of HopkinsLocal, leaders from Johns Hopkins University and Health System committed to set concrete, measurable goals over three years and to be transparent about the institutions' results. At the end of the second year of the program—measured from July 1, 2016 to June 30, 2017—leaders from Johns Hopkins reported exceeding those goals. Progress Report
Analysis of Patterns of Employment by Race in Baltimore City and the Baltimore Metropolitan Area
This new report by Associated Black Charities presents data on racial differences in employment, employment growth, earnings and job turnover. It finds African American employment is concentrated in lower wage industries and occupations and African American workers tended to earn less than their white counterparts and experience higher employment turnover. It also finds that African American employment experienced faster post-recession growth than white employment across all industries. Read the Full Report
The BIP has launched a new website.  Please update your links and visit us at www.baltimorepartnership.org
In the News
Employer Directory of Workforce Organizations to Help Hire Locally
A new directory of Baltimore nonprofit and public workforce development organizations is now available to help employers and community stakeholders find workforce partners to meet hiring needs. It summarizes the work of more than 45 organizations that support Baltimore City workers by offering skills training, eliminating barriers to employment, and facilitating job placement.  Learn More
—————————————————————————————————————————————
The Baltimore Integration Partnership is funded by the national Living Cities Integration Initiative, the Surdna Foundation and receives generous local support from The Annie E. Casey Foundation, Goldseker Foundation, Associated Black Charities, Baltimore Workforce Funders Collaborative and the Maryland Philanthropy Network (Maryland Philanthropy Network). Maryland Philanthropy Network acts as a backbone organization, coordinating and staffing the partnership.