Baltimore Integration Partnership Update - May 2017
University of Maryland Launches New Partnership for West Baltimore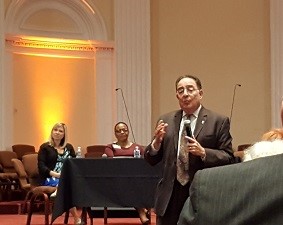 The University of Maryland Medical Center and the University of Maryland, Baltimore have launched a new collaborative partnership with West Baltimore neighborhoods. At a Town Hall Forum on May 4th, university and hospital Presidents Dr. Perman and Dr. Suntha outlined that the new partnership will focus on improving community health, strengthening economic and community development, supporting education and youth development, and improving communication with community members. Their efforts build on a range of new resources and programs launched through their one year old community engagement center such as Workforce Wednesday and other initiatives such as the Cure Scholars Program and Local Food Connections. These initiatives are designed to target resources, investments, supports and opportunities to neighboring communities. At the Town Hall, community members were invited to identify other needs that the institutions, as anchors in the community, could work to collaboratively address. Learn More. 
HopkinsLocal Releases Year 1 Progress Report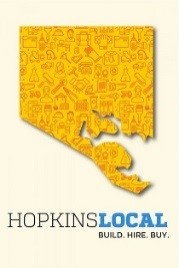 One year after the launch of HopkinsLocal, leaders from Johns Hopkins University and Health System provided an update on the institutions' efforts to expand economic opportunities for Baltimore businesses and residents. Outcomes include contracting 17.3% of addressable construction spend or $55 million with minority-owned, women-owned, or disadvantaged business enterprises; 304 new hires for a set of targeted positions live in focus area Baltimore zipcodes; and $4.9 million in spending in targeted categories with local businesses. The institutions are committed to build on the lessons of the program's first year, leverage their influence with other companies and organizations, and seek new approaches, partnerships, and investments to reach the program's goals in the coming years.  Read Full Report.
Maryland Workforce Outlook Forum
The Governor's Workforce Development Board, Towson University, and the Baltimore Integration Partnership are co-sponsoring the second annual Maryland Workforce Outlook Forum on May 17th from 1 to 5:30. This forum will focus on anchor and business workforce partnerships as well as ways to integrate often overlooked populations—opportunity youth, individuals on the neurodiversity spectrum—into our regional workforce. Click here for more information and registration.
Job and Workforce Fair in Central Baltimore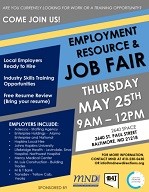 Maryland New Directions with support from Central Baltimore Partnership, the Mayor's Office of Employment Development and the BIP, is hosting a job and workforce fair on Thursday, May 25th from 9 to 12. The free event will be held at 2640 St. Paul Street. A variety of employers including anchor institutions as well as workforce service providers will be participating. More Information.
Kaiser Permanente Outlines Power of Procurement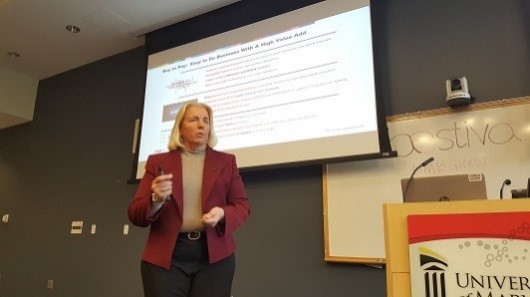 The BIP was pleased to co-host with Kaiser Permanente several conversations around small business development and anchor purchasing at the University of Maryland BioPark in early April.  The day included a presentation by Laurel Junk, Chief Purchasing Officer, who outlined Kaiser Permanente's efforts and strategies to spend more than $1.6 billion with diverse suppliers at the national level. Through the meetings and other ongoing work in Baltimore, Kaiser Permanente is engaging other anchor institutions and partners to identify ways they can collectively grow impacts from institutional procurement and support local and minority owned businesses. Mayor Pugh also participated and provided participants a preview of the City's efforts to grow small business development strategies. Finally, Andy Cook, who leads Made in Baltimore, provided an overview of the City's new local business recognition initiative and branding campaign.
Baltimore Anchor Work Featured in Yes! Magazine
The work of several Baltimore anchors and BIP partners including the City of Baltimore, Bon Secours, and Johns Hopkins were featured in this recent Yes Magazine article, How the Neighborhood That Inspired "The Wire" Is Pulling Its Residents Out of Poverty. The article highlights the opportunities anchor institutions have through their hiring and purchasing powers to support area residents and businesses and features several of the BIP projects including Centre Theater and a Food Vendor Fair.
Anchors in the News
-  A Path to Success for Maryland's Working Poor
-  A grand premiere for Baltimore's renovated Parkway Theatre

The Baltimore Integration Partnership is funded by the national Living Cities Integration Initiative, the Surdna Foundation and receives generous local support from The Annie E. Casey Foundation, The Goldseker Foundation, Associated Black Charities, The Baltimore Workforce Funders Collaborative and the Maryland Philanthropy Network (Maryland Philanthropy Network). Maryland Philanthropy Network acts as a backbone organization, coordinating and staffing the partnership.