Baltimore Integration Partnership Update - April 2018
The Colored Waiting Room - The American Civil Rights Movement Then and Now
In honor of the 50th anniversary of the 1968 assassination of Dr. Martin Luther King, Jr., author Kevin Shird and eighty-four year old, Nelson Malden, will discuss The American Civil Rights Movement, Diversity, Equity and Inclusion: Turning Dialogue and Intention into Action on Friday April 6th. In addition, Anthony McCarthy will moderate a panel of Baltimore leaders, including:
Diane Bell McKoy, President and CEO, Associated Black Charities
Joe Jones, Founder and CEO, Center for Urban Families
Brad Shapiro, Principal, Jabber Five Real Estate Group
This program is co-sponsored by the Betsy Nelson Legacy Fund of the Maryland Philanthropy Network, The Annie E. Casey Foundation, and Maryland Institute College of Art, and is free and open to the public. Light refreshments will be served, and a book signing will be held at the conclusion of the event.  Learn More
Maryland Workforce Outlook Forum: Why Diversity and Inclusion Matter to Maryland's Workforce
The Maryland Workforce Outlook Forum brings together leaders in business, workforce, and education to find common ground for where transformation and innovation can occur. It is a place to collaborate and to find solutions for the workforce and economic challenges facing our institutions and our state.  This year's forum will be held on May 16th from 1:30 to 4:30 pm with a reception to follow.  "Unemployment and Racial Disparities in Maryland's Workforce Pipeline" will be the featured Workforce Outlook Presentation which will be followed by a series of lighting presentations featuring local CEOs and leaders in economic inclusion.  Speakers include Leah Cox of Towson University, Kylie Patterson of Johns Hopkins University, Willy Moore of Southway Builders, Tammira Lucas of Moms as Entrepreneurs, Calvin Butler of Baltimore Gas and Electric, and Heather Lageman of the Council of Educational Administrative and Supervisory Organizations of Maryland.  This free event is sponsored by Towson University, the Governors Workforce Development Board, and the Baltimore Integration Partnership.  Learn More and Register
Inner City Capital Connections (ICCC) Coming to Baltimore
Through the support of Kaiser Permanente and leadership of the Baltimore City Mayor's Office, a new business development program will be launching in Baltimore later this spring.  Administered by the Initiative for a Competitive Inner City, the ICCC offers a 40 hour curriculum with emphasis on capital access to help small businesses in economically-distressed areas build capacity for sustainable growth in revenue, profitability and employment.  Learn More or please contact Audrey Johnson.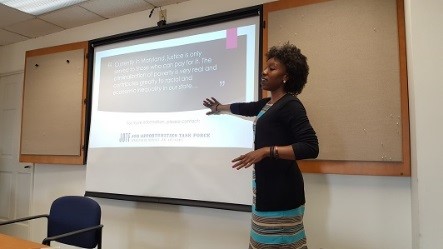 The Criminalization of Poverty: How to Break the Cycle through Policy Reform in Maryland
More than 1.5 Million Marylanders have a criminal record.  This new Job Opportunities Task Force report examines the interaction with the criminal justice system and the collateral consequences of the criminal record that results from this interaction.  The project sought to identify whether there are key laws, policies and practices in Maryland that are either unnecessarily penalizing the poor or leading the poor to be unnecessarily arrested, charged with a crime or imprisoned because they are poor and therefore unable to satisfy the demands of the law. The report finds that that the criminalization of poverty is occurring in Maryland, with disproportionate impact on people of color.  Read the Report

Recruiting Underway for Next Round of Goldman Sachs 10,000 Small Businesses
The GS10KSB program helps entrepreneurs create jobs and economic opportunity by providing greater access to education, capital and business support services. The program is administered through collaboration between Johns Hopkins University, Morgan State University, and Baltimore County Community College. The deadline to apply for the next cohort is April 30th.  Learn more and register for the 4/19 open house at Morgan.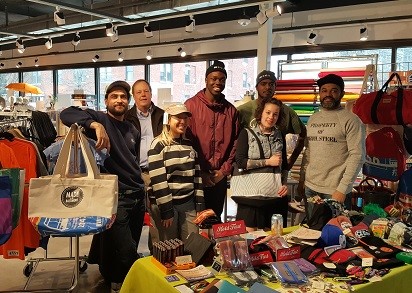 MICA Launches New Book Store Featuring Made in Baltimore Products
Working to leverage student and community buying power to support local businesses, MICA had a grand opening for its new bookstore on Mt. Royal Avenue last week stocked with locally made products. Working in partnership with the Made in Baltimore initiative, the book store provides an opportunity for emerging and established businesses to have a retail presence and expand their customer base. Area businesses and organizations with products include SewLab USA, Jubilee Arts Youth in Business, Tiny Dog Press, Mt. Royal Soaps and Open Works.  Plans are in the works to add more local products in the near future.

 
BIP and Baltimore City Chamber of Commerce Host Reverse Vendor Fair
The BIP was pleased to partner with the Baltimore City Chamber of Commerce to connect the purchasing opportunities of area anchor institutions and large businesses to small, local and minority owned firms.  More than 150 businesses and individuals attended the event hosted at Coppin State University in late January.  In addition to the reverse vendor fair, the event featured panel discussions with procurement representatives, state and local minority business development experts, as well as businesses who have done work with the institutions.  See event coverage.
In the News:
Employer Directory of Workforce Organizations to Help Hire Locally
A new directory of Baltimore nonprofit and public workforce development organizations is now available to help employers and community stakeholders find workforce partners to meet hiring needs. It summarizes the work of more than 45 organizations that support Baltimore City workers by offering skills training, eliminating barriers to employment, and facilitating job placement.  Learn More