The Annie E. Casey Foundation Statement Regarding Children in Immigrant Families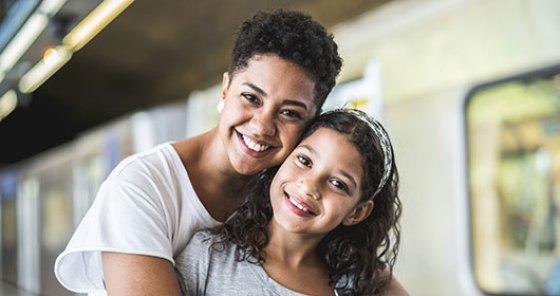 Every one of the 74 million children living in America is part of our nation's future. Each one of them is important to building our country's growth and its future prosperity – and that includes the 18 million children growing up in immigrant families. And, based on decades of research, evidence and practice, we know that children fare best in healthy, stable families.
So it was disheartening in early 2017 when many of those 18 million children were being threatened with separation from their parents, denial of access to basic services and dangerously rising levels of stress resulting from real fears that any knock at the front door could result in a horrible, life-changing experience.
More than a year later, some of the worst fears imaginable are being realized here in our nation of immigrants. The Center on Budget and Policy Priorities recently described numerous actions the federal government has taken that jeopardize children in immigrant families and their communities:
Stepping up immigration arrests in line with the president's January 2017 executive order listing virtually any individual without legal immigration status as a priority for deportation.
Declaring an end to the Deferred Action for Childhood Arrivals program, which shielded about 800,000 young undocumented immigrants from deportation and permitted them to legally work and drive in the United States. Court injunctions have halted the action — but only temporarily.
Announcing that it will end Temporary Protected Status (TPS) for about 390,000 immigrants from Central America, Haiti, Nepal and Sudan. TPS is granted to foreign nationals who cannot return to their countries because of unsafe conditions or because their nations cannot handle their return.
Drafting a proposed rule that would put immigrants at risk of being denied a green card if their family members, including U.S. citizen children, receive certain public benefits — including nutrition assistance, Head Start and the Children's Health Insurance Program — for which these children are fully eligible under federal law.
Endorsing legislation that would deny basic food and medical assistance to family members of new immigrants, bar federal grants from sanctuary cities and increase penalties for those charged criminally for reentering the United States.
Signing into law a tax bill denying the Child Tax Credit to roughly 1 million children in low-income working families who lack a Social Security number even though their parents pay payroll taxes and other taxes.
As an organization devoted to child well-being, we are particularly concerned about policies that result in children being unnecessarily removed from their home. In our work with child welfare systems across the country, we help ensure no child is removed from a family unless he or she cannot safely remain with their families. Research tells us that kids experience such disruptions in attachment to a parent as a traumatic injury that can have long-term consequences.
We would never stand for our government threatening to physically harm a child in response to a parent's action or as a deterrent. We would never stand for our government announcing it would break a child's arm if a parent breaks the law. Subjecting any child to the trauma of separation from a parent may not leave a visible injury, but the research is clear that such trauma risks injuring a child's brain and affecting his or her long-term development. Knowingly threatening to inflict this type of trauma on any child is unconscionable. Perhaps those who are planning to enforce this policy are unaware of the science, but knowing what we know about the long-term consequences, we must do everything we can to make sure our leaders understand why this is such a terrible idea.
We spoke out last year when some of these actions were on the horizon, and it's important for the Casey Foundation and other individuals and organizations that care about the well-being of children to speak out now against policies and practices that undermine the future of children. Our words and actions define our values as a nation, and we are at our greatest when we include all people in our common destiny.
The Foundation remains focused on building a brighter future for all children and promoting racial and ethnic equity, and we continue to support organizations engaged in protecting immigrant families from harmful policy decisions. Our 2017 Race for Results report made three recommendations to those ends: (1) Keep families together and in their communities to ensure stability; (2) help children in immigrant families meet key developmental milestones by addressing educational and other needs; and (3) increase opportunity for immigrant families.
We call on policymakers at all levels of government to end the climate of fear that permeates too many communities and help to create stability and opportunity for all children. It will mean so much for them, and it will speak volumes about who we are as a nation.