2020 Fund to Advance Impact
#About the Network     #About the Fund     #About the Space     #Show Your Support     #Get Connected     #Fund Supporters
Maryland Philanthropy Network was founded by Baltimore-area grantmakers in 1983 to provide a forum in which philanthropic peers could come together to learn and collaborate. Today, we are a statewide association that represents about 130 member organizations who together steward more than $9 billion in charitable assets.
Our small staff aims to maximize the impact of giving in Maryland through a growing network of diverse, informed, and effective philanthropists. We serve as a neutral convener, supporter of collective action, and reservoir of institutional knowledge about our cities, communities, and philanthropy. Offering an organizing infrastructure, we bring funders and partners together to promote alignment and action around issues affecting communities across Maryland.
The 2020 Fund to Advance Impact aims to raise $750,000 to enhance Maryland Philanthropy Network's visibility and accessibility, expand the ways in which we support the evolving needs and aspirations of our statewide membership, and support our move to a new office. 
While Maryland Philanthropy Network's name change in early 2019 provided an opportunity to reassert our statewide focus, this move, necessitated by the sale of our longtime home, offered a chance to re-imagine the ways we interact with our members. The 2020 Fund to Advance Impact will further elevate our association as the statewide center that warmly welcomes members and partners and convenes conversations and collaborations to enhance the engagement and impact of our philanthropic community.  
Based on strategic conversations with our staff, board, and members, the 2020 Fund to Advance Impact will focus on five key areas to support our future:
Our physical space. This thoughtfully designed office is conveniently located in Baltimore's Hampden neighborhood, with easy highway access, free parking, and versatile spaces for a variety of uses serving our members and partners.
Technology and communications. Immediate upgrades to our current technological capacities allows us to offer benefits such as better digital convening spaces which will add to our ability to communicate with and connect member organizations and partners across the state.  
Enhanced programming and enriched expertise on key issues. Our strategic focus on the member experience has led to new ideas around programs and resources that will respond directly to our members' interests and needs across geographies.
A heightened focus on diversity, inclusion, and racial equity practices. As we continue to evaluate and improve on these valued organizational operating principles, we also want to support this work throughout our network, including through additional member convenings for peer learning.
Our reserve fund. In keeping with our long-time fiscal policies and practices during dramatic changes for the organization, our goal remains to maintain six months of operating expenses ensuring we are not vulnerable to market fluctuations or unable to respond proactively to new opportunities. 
While we are currently only offering virtual programming and meetings, we can't wait to show you the space we've built. Our new offices are located in The Hangar Building, a revitalized, former industrial space at 1600 West 41st Street in Baltimore adjacent to Union Collective. This 4,000 square foot space features:
a polished and comfortable conference room with audio-visual systems for improved remote access and participation,
casual meeting areas for pre- and post-program conversations,
an open kitchen and beverage station for members to use and enjoy,
a semi-enclosed patio, an ideal gathering space for peer meetings and receptions,
gallery space featuring Maryland artists curated by our colleagues at Maryland State Arts Council and other art-focused partners,
plenty of FREE parking with easy front-door access,
and of course, offices for our staff and workspaces available as a benefit to our members.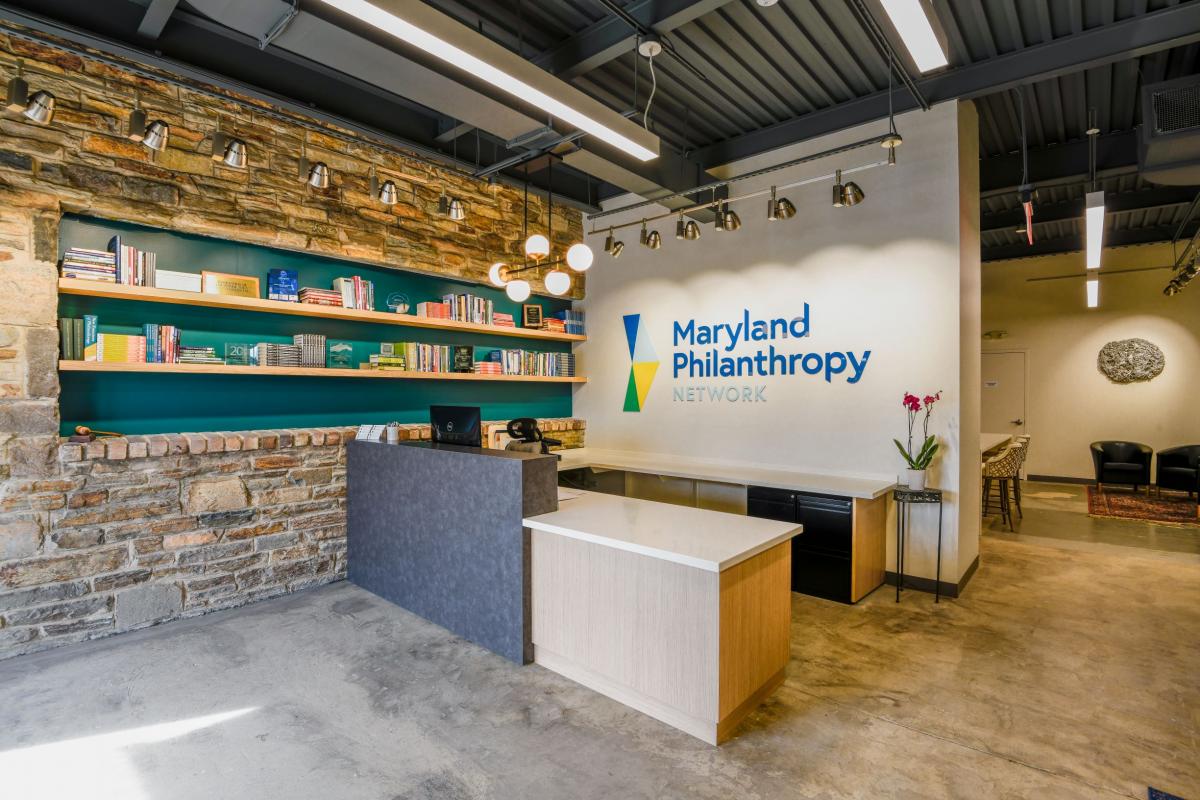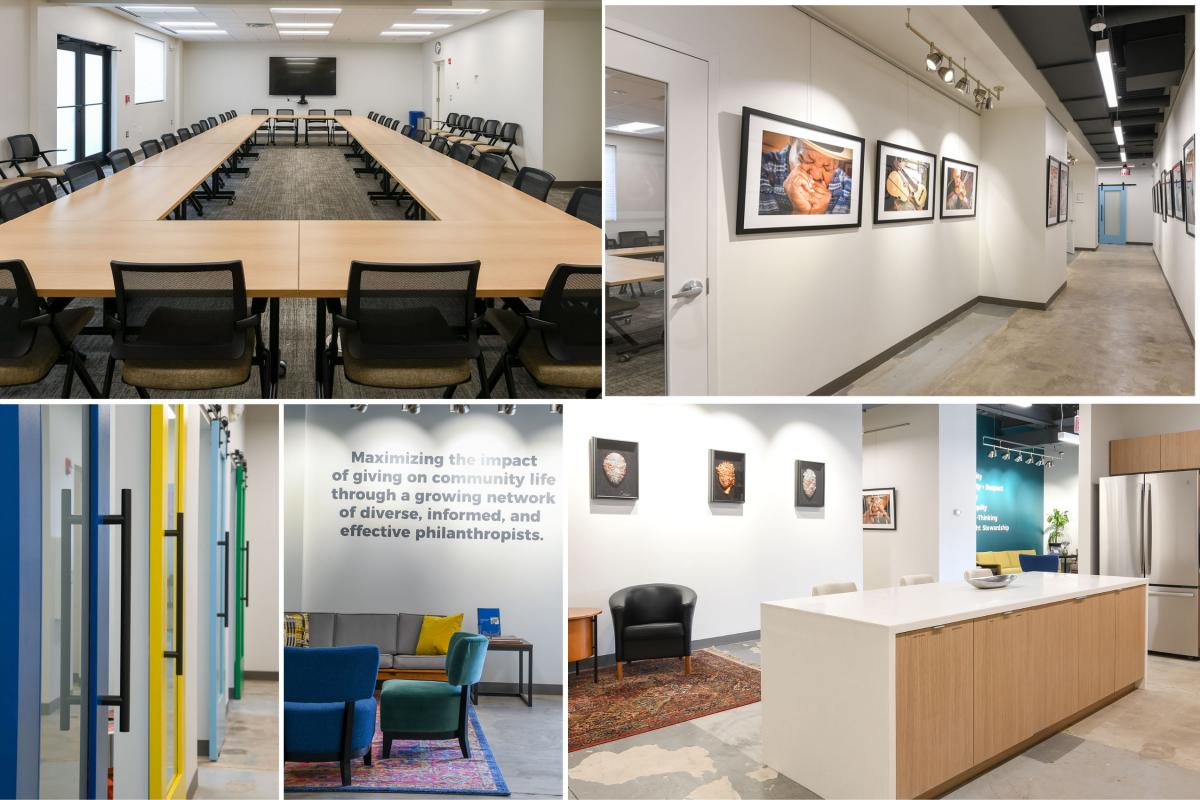 As Maryland Philanthropy Network convenes a diverse network of philanthropists, there is no one-size-fits-all model of support. We have already received commitments and considerations ranging from $1,000 to $15,000 and beyond from individuals, small and large family foundations, corporate giving programs, and other organizations. Our network reflects a range of philanthropic interests.  Your gift or grant in support of the Fund can be a one-time or multi-year commitment and proposals can be crafted to meet your grantmaking interests and process.
For more information about the 2020 Fund to Advance Impact, our relocation plans, or ways you can get involved, please reach out to Elisabeth Hyleck at ehyleck@marylandphilanthropy.org or (410) 727-1205.
Amato-Stricklin Family
Bainum Family Foundation
Baltimore Community Foundation
Bernard Family Fund
Bunting Family Foundation
Callanan Family Charitable Gift Fund
Cammack Family Charitable Gift Fund
Keith Campbell Foundation
Caplis Family Fund
Charles Crane Family Foundation
Clayton Baker Trust
Satonya Fair
Elbow Fund
France-Merrick Foundation
The Fund for Change
Hinkey-Benson Family Fund
Hoffberger Family Philanthropies
Horizon Foundation
Kentfields Foundation
Keswick
Zanvyl and Isabelle Krieger Fund
Lockhart Vaughan Foundation
Renewal Foundation, Inc.
Thomas B. & Elizabeth M. Sheridan Foundation
Aaron & Lillie Straus Foundation
Leonard & Helen R. Stulman Charitable  Foundation
Town Creek Foundation
Harry & Jeanette Weinberg Foundation
Wright Family Foundation