Partnering for Impact: Combining National Knowledge with Regional Leverage for Local Impact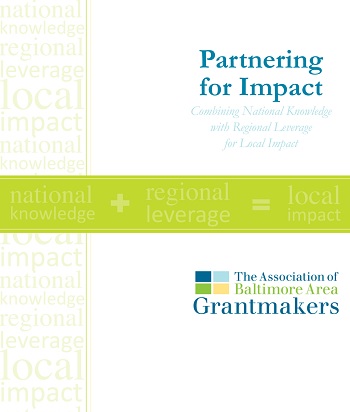 Regional associations of grantmakers can be natural and effective partners for national funders that wish to derive greater impact from their work in local areas. Regional associations have the ties that create strong local networks, the trust that creates local buy-in, and the knowledge about local issues, interests and culture. All of these things are absolutely vital for a national funder to incorporate if their work in local communities is to be successful.
But what should national funders and regional associations keep in mind when working together? How do different perspectives come into play, and how do they affect understanding, implementation and outcomes of joint projects?
Maryland Philanthropy Network (Maryland Philanthropy Network) is pleased to share Partnering for Impact: Combining National Knowledge with Regional Leverage for Local Impact, a new report for the field of philanthropy that attempts to answer some of these questions.
This report documents the experiences, successes and lessons learned during the Learning and Action Agenda Project, an effort to provide local grantmakers with information and strategies around issues of importance to the Casey Foundation —particularly around the Foundation's Family Economic Success framework — and to motivate them to take action on those issues within their own communities and networks.
"We are proud of Maryland Philanthropy Network's longstanding partnership with the Annie E. Casey Foundation in their efforts to share their learnings and knowledge with grantmakers," says Celeste Amato, president of the Maryland Philanthropy Network. "It is our hope that this report will serve as a resource for the staffs at all regional associations as they consider similar work. Likewise, we hope that this document may also serve as a guide for other national funders who wish to partner with regional associations."
For questions, please contact Elisabeth Hyleck, Director of Learning and Engagement.