Reflections on United Way's Walk a Mile Experience
By Karen M. Singer, Baltimore Women's Giving Circle
"I did not get to work since I had to go to the social service offices that are only open during my work hours… I paid a hefty fee since I was late to pick up my baby brother from daycare… Since our parents are both working two jobs, we have not seen them awake for the last five days… we buy our sparse food at the local convenience store and it is really expensive…" 
On January 31st, participants uttered these phrases in frustration and despair during United Way of Central Maryland's Walk a Mile Experience (WAM), a poverty simulation, which the Maryland Philanthropy Network (Maryland Philanthropy Network) co-hosted with the Baltimore Women's Giving Circle and the Jewish Women's Giving Foundation, a project of The ASSOCIATED*. Each of the 52 participants assumed a specific role in a family or as a service provider. WAM's goal is to build empathy and understanding for more than 300,000 Central Maryland residents living below the poverty line and, yes, the goal was achieved.
The family profiles are based on real people who have been served by the United Way and the sense of desperation was profound. One participant noted, "the experience reminds me that my problems are nothing compared to poverty" and another who was the mother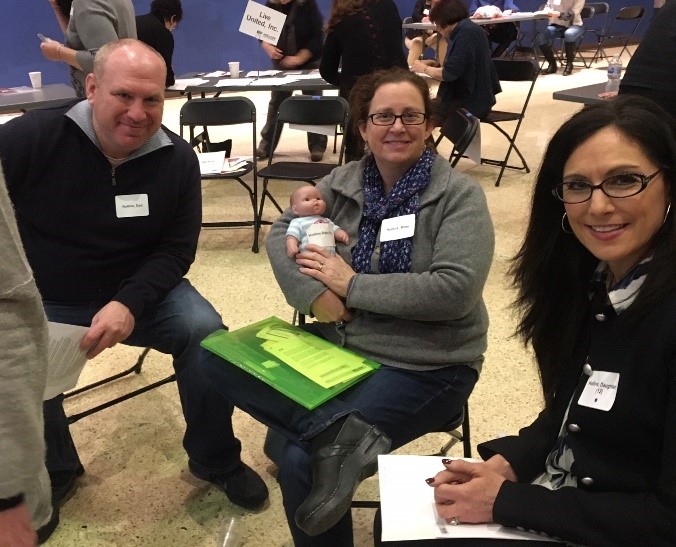 of her family sadly shared, "I did not touch my baby in four days." The group debrief revealed many poignant and provocative observations, ranging from a sense of helplessness regarding the dire straits to some hopefulness at families collaborating to do the best that they can, with very limited resources.
Each of the participant groups are working tirelessly every day by contributing their time, talents and/or treasures (the "T's") to improve the lives of those in poverty and for that, we should all be proud. Yet, there is much to be done and whether our personal focus might be on one of the T's, perhaps we can enhance another of the T's---if you are contributing your financial resources generously, maybe you have more time to give; if you are giving your talents, perhaps you have more treasures to give. Together, we can continue to improve the lives of the neediest in the Baltimore metropolitan area, one step at a time.
For more information on how to participate or to host a WAM experience, contact Lizzie Devereux, Education Program Manager/Walk a Mile Experience Director for United Way of Central Maryland at lizzie.devereux@uwcm.org.
*The United Way of Central Maryland, Baltimore Women's Giving Circle, and The ASSOCIATED are all members of the Maryland Philanthropy Network.