Baltimore Integration Partnership Update - October 2016
Food Hub Breaks Ground, City Seeds Social Enterprise Taking Off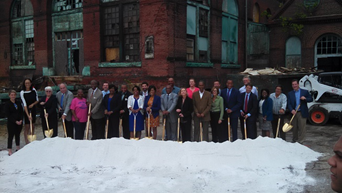 City, State, nonprofit, and community leaders were on hand in late September to officially break ground on the long awaited Baltimore Food Hub.  Funding from Federal, State, and local government as well as the foundation community and the Reinvestment Fund (BIP Predevelopment Pool) have helped move this project forward.  American Communities Trust, the Historic East Baltimore Community Action Coalition and Humanim have been leading the project planning and coordination. One of the early tenants will be City Seeds, a growing social enterprise based at Humanim. City Seeds has partnered with the BIP over the last two years on business development strategies and the Made in Baltimore Food vendor fairs including one held this past July with Baltimore anchor institutions and other area food buyers. City Seeds has secured contracts with Johns Hopkins and several other local partners to operate onsite cafes, food carts, and provide baked goods [editorial note: the cookies are amazing!!]. They are utilizing locally produced foods to support local business development and are hiring and training local residents as employees. Learn more about City Seeds including their small business development program School of Food as well as their food operations and catering.   
Goldman Sachs Application Deadline Extended
Businesses are still invited to apply for Goldman Sachs 10,000 Small Businesses Program which is being offered in Baltimore in early 2017. 10,000 Small Businesses is an investment to help entrepreneurs create jobs and economic opportunity by providing them with greater access to education, financial capital, and business support services. In professional workshops, business owners learn about access to financial capital and build a powerful network of professional support. The curriculum focuses on practical business skills, including negotiations, employee management and marketing. Through 10,000 Small Businesses, program tuition is offered at no cost to the business owner and accepted applicants receive:
Hands-on education for business growth
Access to highly-trained professionals who understand what it takes to grow a small business
An expanded peer network of small business owners from across the country
ACT NOW – Application deadline has been extended to October 14, 2016!!
Reborn (with help) in Baltimore
Check out this great op-ed by Steve Gondol, Executive Director of Live Baltimore, highlighting the success of their newest employee, Chadras Coples.  Steve documents how Ms. Coples found a path to employment through the work of Live Baltimore, Marian House, and Humanim's new Administrative Assistant Career Training Program launched this past year with support from the City of Baltimore, the BIP and 10 anchor institutions. Steve argues that "if we are going to turn things around in the city, it's imperative that we all do our part — whether that's a small organization hiring one person or a large company hiring hundreds."  Thank you for your leadership Steve and Chadras for your commitment to training and success!! 
HCPI Development Fund Being Assembled
The Reinvestment Fund, Johns Hopkins, local banks, and foundations are working to capitalize the planned HCPI Development Fund. The Development Fund was one of 29 recommendations developed in partnership with the community and outlined in the 2012 HCPI report. The $10 million fund and $2 million guarantee is expected to be launched soon.  It will feature economic inclusion requirements including hiring and contracting goals and will help support community driven projects in central Baltimore.
In the News
-   Urban Manufacturing Alliance Partners with Made in Baltimore
-   Doors Open at Open Works, Baltimore's $11.5 Million Makerspace
-   Ulman plans to engage community, businesses in new consulting position with Towson University
-   Bon Secours program helps people transition to normal life after years behind bars
-   Morgan's Community Mile bridges the town-gown divide
-   'Explore the Core' campaign aims to draw new residents to central Baltimore
-   Baltimore City Council pushes charter amendment for small-business program
-   Aligning with our region's anchor institutions (see page 12)

Anchor Procurement Technical Assistance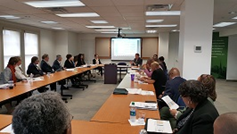 The BIP, through support from the Surdna Foundation, has brought on board a team including Next Street, U3 Advisors, and ML Whelley LLC to provide four anchor institutions procurement technical assistance to strengthen economic inclusion outcomes.  The four month project, which kicked off last week with an overview of other national anchor strategies, is expected to yield specific budgetary, policy, infrastructure, and planning recommendations for each anchor to advance local and minority purchasing outcomes.  Participating anchors include University of Maryland Medical System, Maryland Institute College of Art, LifeBridge Health, and Notre Dame of Maryland University.  Individual institutional recommendations will be consolidated into broader recommendations for all of the BIP anchors to consider at the end of the project.
 
NPower Launches in Baltimore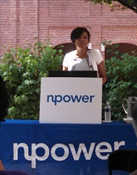 Baltimore's newest nonprofit training program, NPower, hosted a ribbon cutting ceremony in late August and is now training their first cohort of 25 young adults in the information technology field.  Through the program, students earn their CompTIA A+ certificates and are prepared for a range of IT positions such as Help Desk Technician, Field Service Technician, System Administrator, Information Technology Specialist, Computer Hardware Technician, Desktop Operating System Support and Server Hardware or Software Technician.  The new program, which expanded from New York, North Texas, and Toronto, is located in Mt. Clair Station and is supported by national as well as local businesses and foundations including The Abell Foundation, Harry and Jeanette Weinberg Foundation, the France-Merrick Foundation and the UMB BioPark.  The program is currently recruiting employers for internships and job placement opportunities.   Please visit their website for more information or contact Joshua Lubin.
Lion Brothers Building Moves Forward
The redevelopment of the former manufacturing site in Southwest Baltimore is underway.  It is anchored by the University of Maryland Baltimore's BioPark and supported by grants and financing from the state, Historic Tax Credits, New Market Tax Credits and the Reinvestment Fund (including predevelopment funding from the BIP pool).  The site is expected to open late this year.  The completed building will be home to Baltimore Community Lending, Enterprise Homes, and UMBC's intermedia and digital arts graduates program.  Read more here  

Summary of Baltimore Anchor Institution Economic Inclusion Activities
The BIP has assembled this growing draft list of local hiring, local purchasing and community development initiatives being led by area anchor institutions.  We are excited about their leadership and efforts to support Baltimore residents, businesses, and communities in new and expanding ways.   
The Baltimore Integration Partnership is funded by the national Living Cities Integration Initiative, the Surdna Foundation and receives generous local support from the Annie E. Casey Foundation, The Goldseker Foundation, Associated Black Charities, The Baltimore Workforce Funders Collaborative and the Maryland Philanthropy Network (Maryland Philanthropy Network). Maryland Philanthropy Network acts as a backbone organization, coordinating and staffing the partnership