Baltimore Integration Partnership Update - October 2015

Hopkins Launches Expanded Inclusion Initiative - HopkinsLocal
Johns Hopkins University and Johns Hopkins Health System launched an enterprise wide initiative to leverage the institution's economic power to create opportunities for Baltimore. The initiative focuses on expanding the participation of local and minority-owned businesses in construction; increasing hiring of city residents particularly in neighborhoods in need of job opportunities; and enhancing economic growth and employment through purchasing. A new website lays out goals for the institution and also the framework for vendors, job seekers, and contractors to engage in hiring and purchasing opportunities. The initiative formalizes an extensive and thoughtful process Johns Hopkins has undertaken with support from the BIP and other Baltimore partners.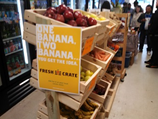 Loyola launches FreshCrate; Anchor Food Sector Work Grows
Loyola University has launched FreshCrate to extend healthy food access in the Govans Community. Through a partnership with its food service provider Parkhurst, seasonal fresh produce will be available for resale through local corner stores. FreshCrate is the latest food sector initiative undertaken by Baltimore anchors to create opportunities for Baltimore residents and businesses. Earlier this year, the University of Maryland, Baltimore launched the Merchant Access Program in Southwest Baltimore to connect food businesses to catering opportunities on campus. The University of Baltimore has also opened a new café this semester in partnership with the Choice Program which provides programming and support to youth in at risk environments. Finally, Johns Hopkins food service provider Bon Appétit is partnering with Humanim's social enterprise CitySeeds to produce food for the Grab and Go Line enabling training and hiring opportunities for city residents. CitySeeds is also working to support food entrepreneurs and has recently launched School of Food building on the vendor fair they hosted this past June with the BIP. Check out the BIP's research on anchors and food.
ULI to Host Discussion "Community Development Around Baltimore's Anchor Institutions"
Join anchor, city, and nonprofit community development stakeholders as they discuss the Baltimore City Anchor Plan and the work of local institutions with members of the Baltimore Chapter of the Urban Land Institute. The event is being held at the Senator Theater on November 5th. Event registration and details.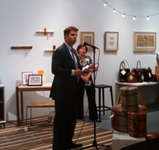 BIP & Industrial Arts Collective Collaborate on Pop Up Shop, Happy Hour & Vendor Fair
The BIP was pleased to help sponsor the Made in Baltimore Pop-Up Shop and collaborate with the Industrial Arts Collective to promote locally made products. The shop was open for just over three weeks and hosted more than 2000 visitors generating almost $20,000 in sales for the 75 participating businesses helping support 110 jobs. A Happy Hour and Vendor Fair was held in early September connecting anchor procurement representatives to light manufactures, artists, and other Baltimore producers. Many thanks to the IAC, Milk and Honey Market, Monument City Brewing Company, Baltimore Development Corporation, One Baltimore, MICA and all of our anchor partners for helping make the night a success. Event Photos courtesy of Alan Maddox Photography.
Anchors Working to Grow Minority Vendors
Seven BIP anchors joined the more than 100 exhibitors that participated in "Meet the Primes" – a procurement fair coordinated by Baltimore Metropolitan Council, the Baltimore County School System and Government to connect large procuring agencies and construction firms with minority business enterprises. Several institutions are also participating in this week's City of Baltimore Procurement Fair which is part of the 2015 Supplier Diversity and Inclusion/Minority Enterprise Development Week.
Centre Theater Opens to Students and Nonprofits
The new home to the film programs of MICA and JHU is now open and hosting students and classes. The construction of the building incorporated local hiring and minority contracting and was financed through TRF with New Market and Historic tax credits as well as capital from Living Cities creating a catalytic investment on North Avenue. Through the leadership of developer Jubilee Baltimore, Centre Theater is now home to gaming and jewelry businesses as well as numerous mission oriented nonprofits including Central Baltimore Partnership, NHS, and the Baltimore Impact Hub whose work, along with that of the students, will continue to shape opportunities for Baltimore in years to come.
BIP/TRF Predevelopment Fund Continues Fostering New Developments
Predevelopment funding from the BIP's first phase continues to be recirculated to advance local community development projects. This past year, TRF has provided predevelopment financing for two buildings near the UMB BioPark. In addition, a portion of the fund was allocated to support predevelopment needs in alignment with the Homewood Community Partners Initiative Fund.
Anchor LNYW Programs Grow to Strengthen Neighborhoods
Several anchors have launched new Live New Your Work Programs including Morgan State University and the University of Baltimore in the past year. They join more than 100 businesses and organizations that provide housing assistance to their employees in partnership with the City of Baltimore's B-Hip Program. Participants can get additional incentives through the State of Maryland's Mortgage Program. Bon Secours recently expanded their existing incentives to reach $25,000 for employees that purchase a home within one mile of their west Baltimore campus and LifeBridge Health expanded their homeownership offering to include a one-time rental incentive for employees that live in targeted buildings near their hospitals.
Recommended Reading:
-Striking a (Local) Grand Bargain
-Central Corridor Purchasing Study Demonstrates the Transformative Power of Anchor Institutions
-------------------------------------------------------------------------------------------------------------------------
The Baltimore Integration Partnership is funded by the national Living Cities Integration Initiative and generous local support from the Annie E. Casey Foundation, The Goldseker Foundation, Associated Black Charities, The Baltimore Workforce Funders Collaborative and the Maryland Philanthropy Network (Maryland Philanthropy Network). Maryland Philanthropy Network acts as a backbone organization, coordinating and staffing the partnership.