Baltimore Integration Partnership Update - February 2017
Strengthening Baltimore's Workforce: Reflections and Lessons Learned
For over a decade, members of the Baltimore Workforce Funders Collaborative (BWFC) have supported a growing number of industry focused workforce development initiatives, and the outcomes are notable. Through these efforts, previously unemployed residents are getting industry recognized certifications and jobs with career advancement opportunities at impressive rates. This report highlights several of these initiatives and offers recommendations on how they can be expanded. Read the report.
Growing Anchor Institution Local and Minority Purchasing 
Anchor institutions in Baltimore are working to strengthen minority and local purchasing to create jobs and local economic opportunity. To improve internal policies and practices, Next Street, U3 Advisors, and ML Whelley, LLC are completing reports assessing the budgetary, policy, infrastructure, and planning processes at five Baltimore anchor institution. Participating institutions include LifeBridge Health, Maryland Institute College of Art, Notre Dame, University of Maryland Medical System, and the University of Maryland-Baltimore. Common findings, strengths, challenges and recommendations from the work are captured in this summary presentation made to BIP anchor institutions and other stakeholders. Review the findings.
Central Baltimore Future Fund Launches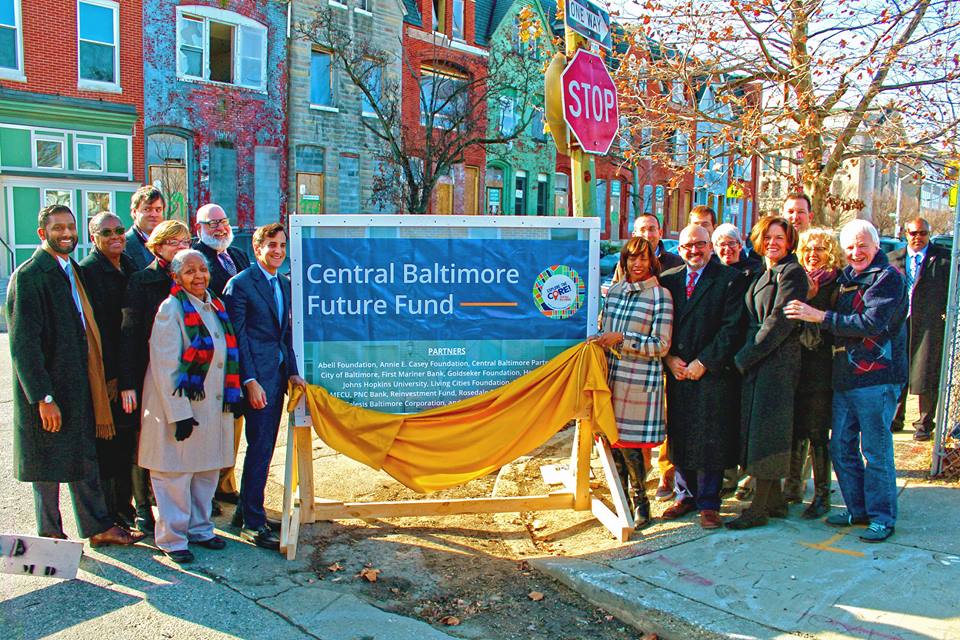 A new $10 million fund was launched in December to continue the revitalization of neighborhoods in central Baltimore while creating jobs for area residents. The Central Baltimore Future Fund (CBFF), which was envisioned in the Homewood Community Partners Initiative, is being managed by the Reinvestment Fund. Fund borrowers need to incorporate economic inclusion goals including minority business contracting and local hiring into their projects.  Many area banks, foundations, and partners invested in the CBFF and loan guarantee pool including the Abell Foundation, The AnnIe E. Casey Foundation, City of Baltimore, First Mariner Bank, Goldseker Foundation, Howard Bank, Johns Hopkins University, Living Cities Foundation, M&T Bank, MECU, PNC Bank, and Rosedale Federal Bank. In addition to the Fund, predevelopment and acquisition resources are also available for eligible projects while Central Baltimore Partnership and BIP staff are connecting borrowers to workforce and other partners to help them achieve inclusion goals. The first CBFF loan was made to Telesis to support the next phase of their 300 unit mixed income housing project in Barclay. Learn more about the Fund. 
Big Bean Theory' Sprouts with Baltimore Anchors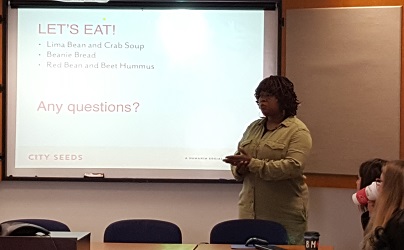 This past Thursday, the BIP was pleased to host Ms. Eula McDowell and her growing Mt. Vernon Marketplace based business Big Bean Theory as she pitched to the procurement leadership and food service providers of Baltimore's anchor institutions.   The pitch was one of the prizes for winning the School of Food/Startup Soiree's Food Entrepreneur Demo Day this past November covered recently by the Baltimore Sun. Food is a ripe opportunity for many Baltimore anchors to support their local economy as it is a sector they all share in common and can engage through multiple avenues including catering, campus food service, as well as student and staff spending.  Over the past three years, the BIP has partnered with City Seeds to help connect anchors to local food entrepreneurs through vendor fairs and their business development program School of Food. More about School of Food and the Big Bean Theory.
Pilot Administrative Training Program Completes 3rd Cohort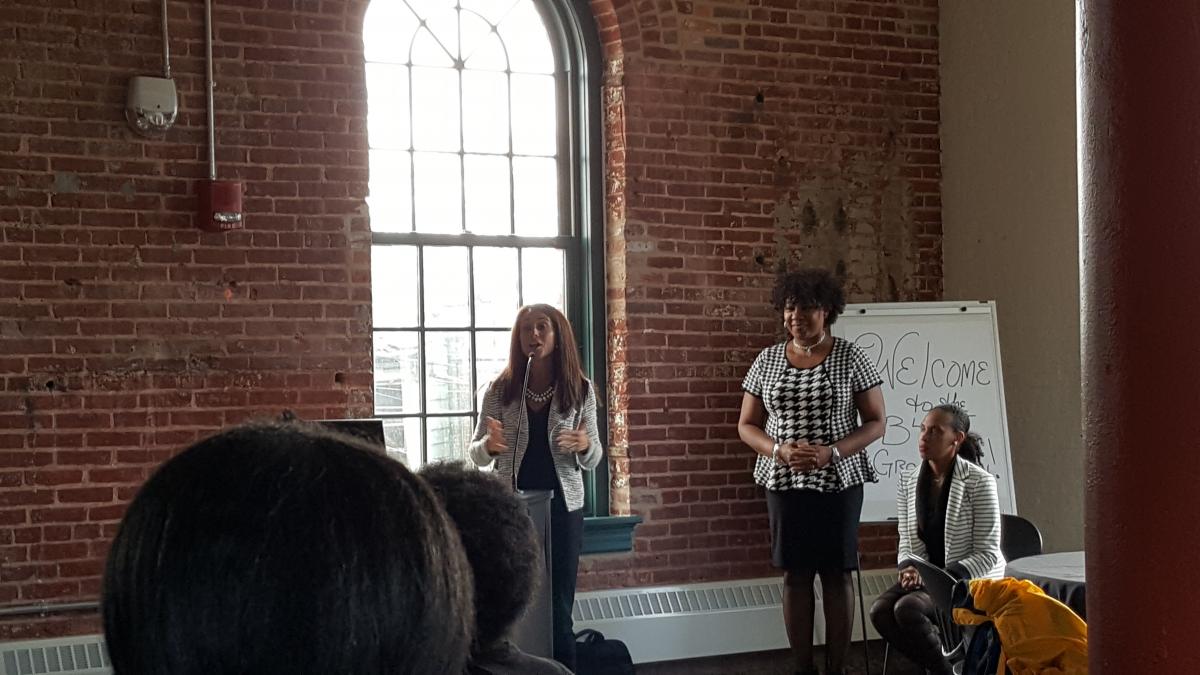 Hiring local residents is one of the key strategies of the BIP to address economic disparities and is a priority for a growing number of Baltimore employers. In late 2015, 10 anchor institutions came together to support a funding application to the City of Baltimore to create a new training program committing to consider program graduates for entry level positions. With a partial match from the BIP, Humanim launched a free 13 week Administrative Assistant workforce training program enrolling 45 city residents. Participants received two of three recognized certifications including Microsoft Office Specialist, Certified Medical Administrative Assistant, and the Professional Administrative Certificate of Excellence. This past November, the third and last cohort of the pilot graduated. With placements still underway, the program has already achieved strong completion and placement rates. The pilot found that motivated anchors can be a core group of employers to create a program around but it is also valuable if the training is also oriented to support positions with other employers. For this pilot, anchors represented over half of the job placements with jobs more prevalent in medical institutions.  A variety of hiring barriers were also encountered including experience needed, availability/timing of open jobs, and lengthy hiring process. This required a customized hiring approach for each employer, a motivated human resource/hiring manager and strong communication with the workforce agency.  Challenges and strategies were collaboratively shared across human resource leaders through an anchor steering committee formed to craft new solutions and even open up opportunities with new employers. In partnership with the anchors, Humanim and BIP are looking to continue this work in 2017.
New Orleans Visits Baltimore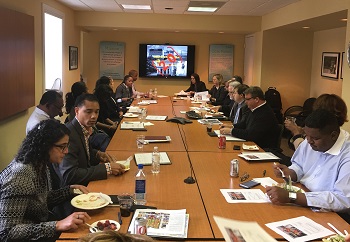 The Baltimore Integration Partnership was pleased to help host a team from New Orleans, a sister city in the Living Cities Integration Initiative, to highlight local anchor institution hiring, purchasing, and reinvestment strategies. Bon Secours, Johns Hopkins, Maryland Institute College of Art, Humanim, the University of Maryland-Baltimore, The Annie E. Casey Foundation, Reinvestment Fund, and the Mayor's Office participated in the visit.  
From the News Desk
-          Baltimore leads state in growth
-          Food entrepreneurs build business savvy with Humanim's School of Food
-          Officials announce $10 million fund for projects in central Baltimore
-          Anchors/City help medical laundry firm to open 80,000-sf facility in East Baltimore, hire 400 new employees

The Baltimore Integration Partnership is funded by the national Living Cities Integration Initiative, the Surdna Foundation and receives generous local support from The Annie E. Casey Foundation, The Goldseker Foundation, Associated Black Charities, The Baltimore Workforce Funders Collaborative and the Maryland Philanthropy Network (Maryland Philanthropy Network). Maryland Philanthropy Network acts as a backbone organization, coordinating and staffing the partnership.